Share this post: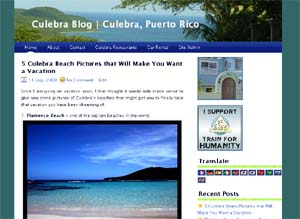 Writing blog posts for a small business niche site can certainly feel unglamorous. The posts don't necessarily generate huge amounts of traffic or garner tons of comments.
However, the importance of this basic step, as part of your overall small business social media footprint, cannot be stressed enough.
Consistent posting can lead to improved Google rankings, increased authority in your niche topic, and most importantly, additional avenues to reach your potential customers.
As a "real life" example for you, I am going to outline my strategy and how I go about creating web content that promotes my venture while at the same time is:
Helpful
Non-spammy
Trust building
Step 1: Before I write a word I determine what my goals are. For the purposes of this little tutorial, and my real life example over at Culebra Blog, my goals were to create a post that:
Had a catchy title that might draw in readers.
Included photos that would give people a sense of Culebra's beaches.
Incorporated keywords that had the potential to rank well in Google.
Step 2: With the above goals in mind, I referenced the Google Keyword Tool and did some queries to see what people were searching for with respect to the term, "Culebra."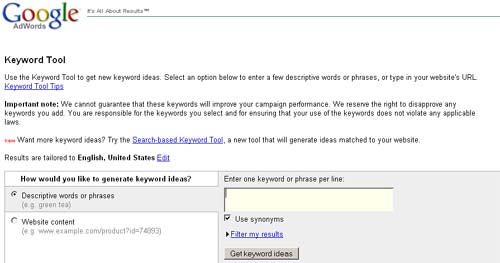 Step 3: From the info gathered with the KeyWord Tool I decided to do a post on Culebra's beaches, which in and of itself is an okay title, but it doesn't really have a catchy hook. So, I crafted the title – – 5 Culebra Beach Pictures that Will Make You Want a Vacation.
Step 4: Then it was time to find five really nice beach pictures with the Filckr search tool CompFight (h/t Seth Simonds).
Step 5: I downloaded the photos and sized them using Photoshop, and came up with an opening line for the blog post that would hopefully interest readers.
Step 6: One of the most important steps, I placed my business website at the bottom of the post, added some relevant keywords and hit publish.

*You can see the post here: 5 Culebra Beach Pictures that Will Make You Want a Vacation
Step 7: The next morning I Googled the phrase "Culebra Beach Pictures," and like magic, I am on now the front page of 77,200 search results.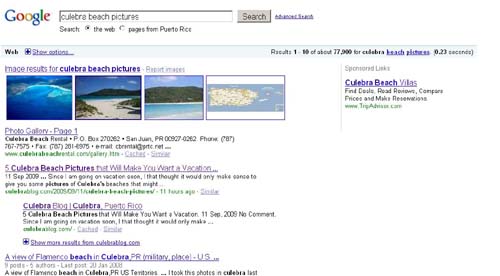 Not bad for a half-hours worth of work on a Friday evening!

Why do I call this post successful? Because all of the goals that I set out above were met.

As a final note, when it comes to your small business blog, it's important to remember that you might not have a huge subscriber base like Seth Godin, Brian Clark, Chris Brogan, or Darren Rowse, but what matters most is that YOUR potential customers are able to find you.

What do you think? Do you have other tips or suggestions?

Share this post: