Share this post:
When was the last time you had a truly remarkable customer service experience?
One that was so incredible and made such an impact that you wanted to share the details with the world?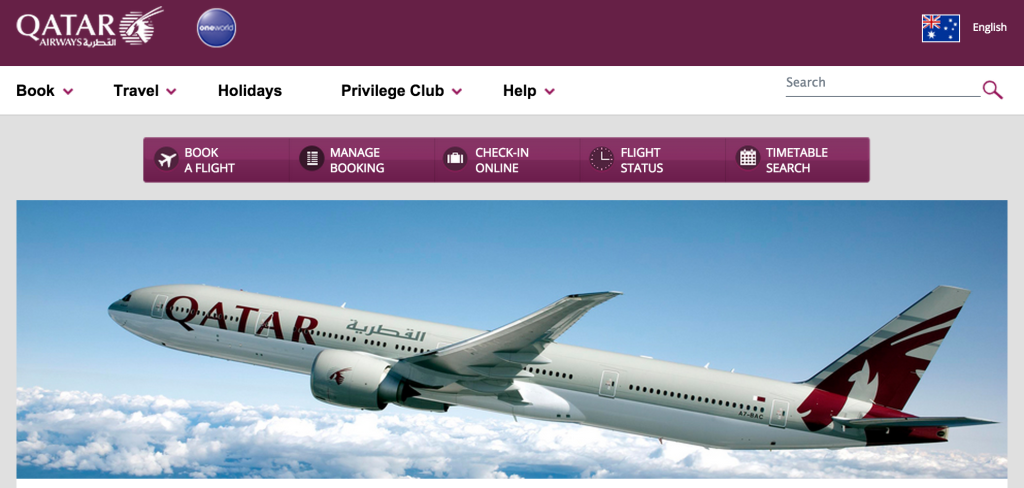 Now imagine that experience was unexpectedly provided to you by the CEO of a rapidly expanding company that employs over 30,000 people and is number one in its industry.
This was my recent interaction with the CEO of Qatar Airways, His Excellency, Akbar Al Baker.
Qatar Airways Travel – Backstory
A couple of months ago my wife and I were coming up on a milestone anniversary. Although it was a momentous occasion we weren't really planning on doing anything special. We had joked about going to the Maldives, but had never really pursued the idea or made definitive plans.
All of that changed one morning when I signed into Facebook and noticed an awe-inspiring photo of a Maldives' surf break in my newsfeed.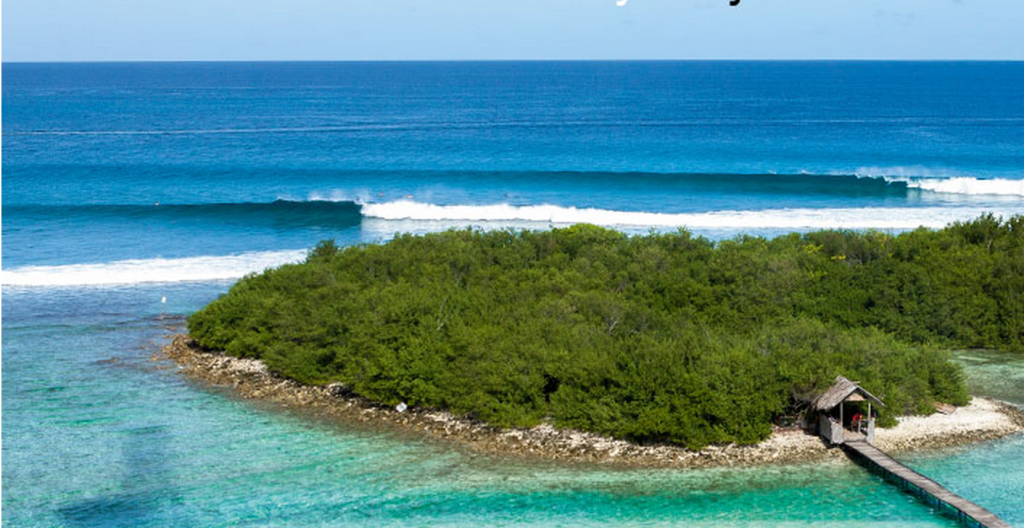 image source: The Perfect Wave
The image you see above drove me to do some further research on the Maldives, how we might get there from the Caribbean, and what airlines could meet our needs.
Additionally, as this was a big anniversary and there were some long haul sections over the Atlantic, we decided that if we were really going to go to the Maldives then it would be in Business Class.
Qatar Airways – Time to Book
If you are a traveler then you know it's hard not to start forming expectations and developing a perception of what you think a travel experience and a destination will be like—the excitement of our potential trip was certainly building!
When it was time to move past the dreaming stage of traveling to the Maldives and to actually book tickets and accommodation, I started with Google Matrix Airfare Search. The Google Matrix platform allows you to see all of the airfares for the airlines that are traveling to your desired destination in a very easy to digest visual manner.
While conducting the airfare search there were three distinct airlines (including Qatar Airways) that stood out for us in terms of business class pricing and scheduling convenience.
However, around the same time that we were booking, Skytrax named Qatar Airways the number one airline in the world. From that designation, and from reading about the incredible service, the decision to book with Qatar was sealed.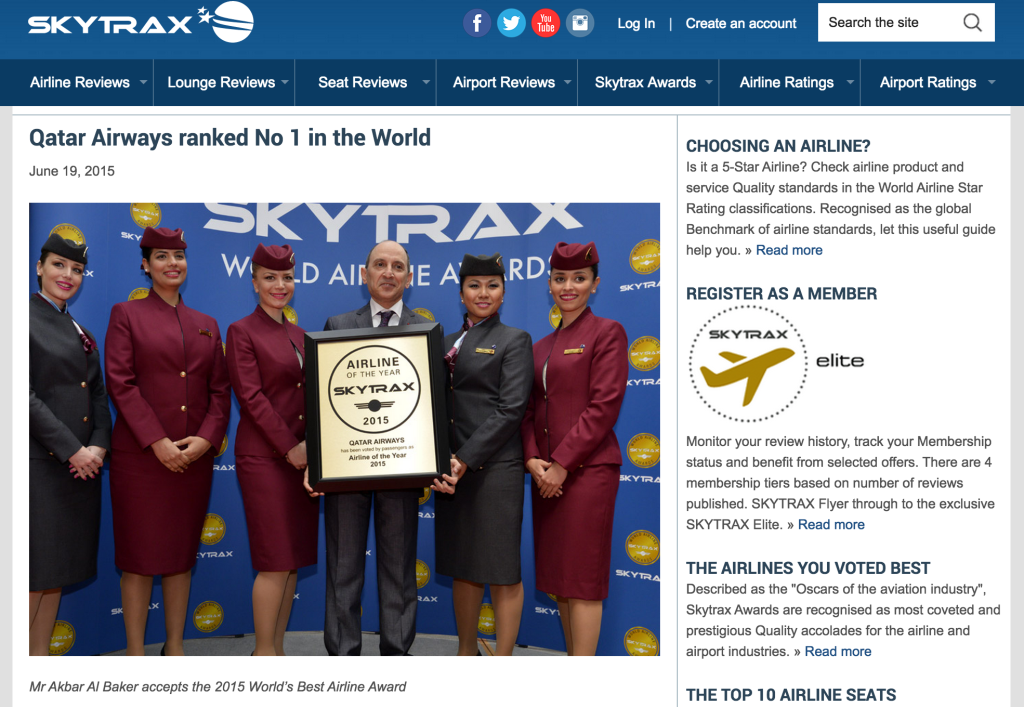 Now that we were booked in Business Class on the number one airline in the world, and as someone who has traveled frequently on many airlines, my expectations greatly increased about what the experience would be like.
Needless to say, Qatar Airways was going to have to really deliver for it to meet the attentive service and luxury we envisioned.
Qatar Airways CEO – Remarkable Customer Care
After our flights were booked for the Maldives I was so excited that I decided to send a quick email to the Qatar Airways CEO, Mr. Akbar Al Baker. (Note: Out of respect for Mr. Al Baker I won't post his exact email to me but I will paraphrase our exchange.)
In my initial email I wrote:
I've just purchased Business Class tickets for a very special anniversary trip for my wife and I to travel on Qatar Airways from the US to Maldives in September.

We are excited beyond measure to experience the renowned service that Qatar Air is known for around the world.

Kind regards, and I hope you are well.
That was it. Simple and to the point.
I didn't really expect a reply, as I'm sure Mr. Al Baker is beyond busy dealing with Qatar Airways and the expansion of Doha's Hamad International Airport.
Much to my surprise, about a day or so later I had an email in my inbox from Mr. Al Baker himself saying thanks and inquiring about our dates of travel. When I wrote back I kept it brief and sent along our dates, and here is the starting point where the remarkable customer service began.
More specifically, during this time my wife had noticed that I accidentally booked the earlier flight that Qatar Airways has (leaving the Maldives) and I mentioned it to Mr. Al Baker. By the next morning when I checked my email the Manager of his Executive Office had contacted me to get confirmation of the departing flight time that we wanted so she could make the change.
Perhaps this was a straightforward task for them and completed with a couple of computer keystrokes. But to us – the customer – it was an extremely kind and helpful act that would allow us to continue to enjoy our holiday at the Four Seasons little bit longer.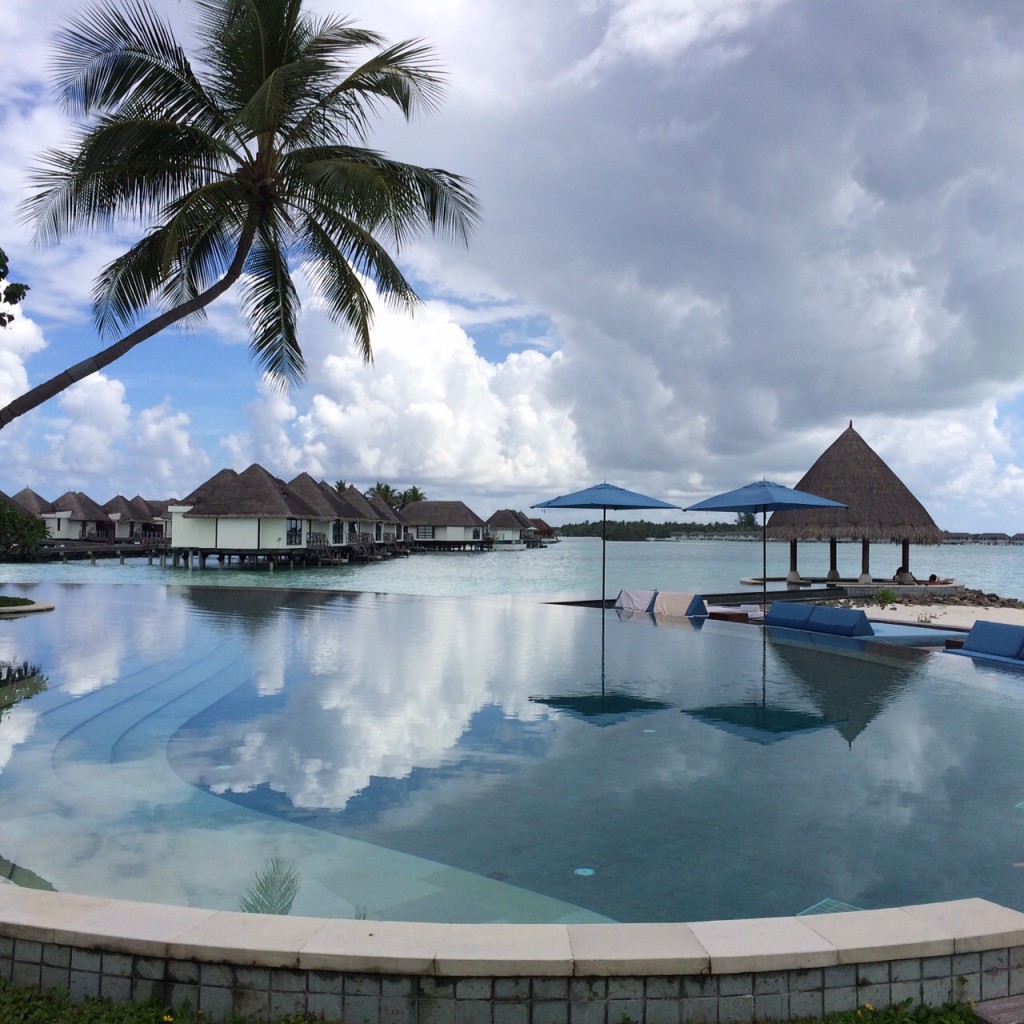 Our travel commenced on September 3rd and to say that we were beyond ecstatic would be an understatement. I had a feeling that the reality of traveling on Qatar Airways Business Class was going to far outweigh my perception and high expectations.
To be sure, after checking in at Philadelphia Airport we went to the British Airways Lounge (shared with Qatar Airways) and while sipping coffee and eating some fruit we were graced with a surprise visit from Antony, the Qatar Airways station manager. He checked in on us and made sure everything was going smoothly thus far and told us to contact him if we needed anything before we took off.
Qatar Airways – Arriving in Doha to Unexpected VIP Treatment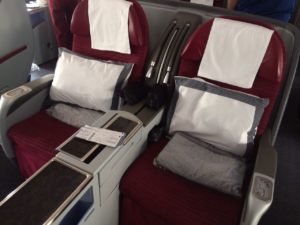 We began the long flight from Philadelphia to Doha, and as you would expect, the Business Class seat made it easy to relax and enjoy.
Also, the attentive service of the flight attendants and "a la carte" menu made it feel like we were in a boutique hotel/restaurant for the thirteen-hour flight.
It certainly was evident why this airline had just been named number one in the world.
Surprisingly, after such a long flight to Doha we were actually feeling refreshed upon arrival. When the doors opened to the stairs that led down to the tarmac, we were greeted by more unexpected generosity.
The CEO had arranged for us to have special "Meet and Assist" service. Meaning, while all of the other passengers boarded buses to make their way to customs and immigration, we had a private car with driver and a Qatar Airways representative waiting for us!
Once inside the vehicle we were whisked to a reserved immigration area (with refreshments and snacks) away from the hustle and crowds of passengers from the recently arrived flights. After completing customs we were then delivered by the Qatar Airways personal escort to their incredible Business Lounge in Doha.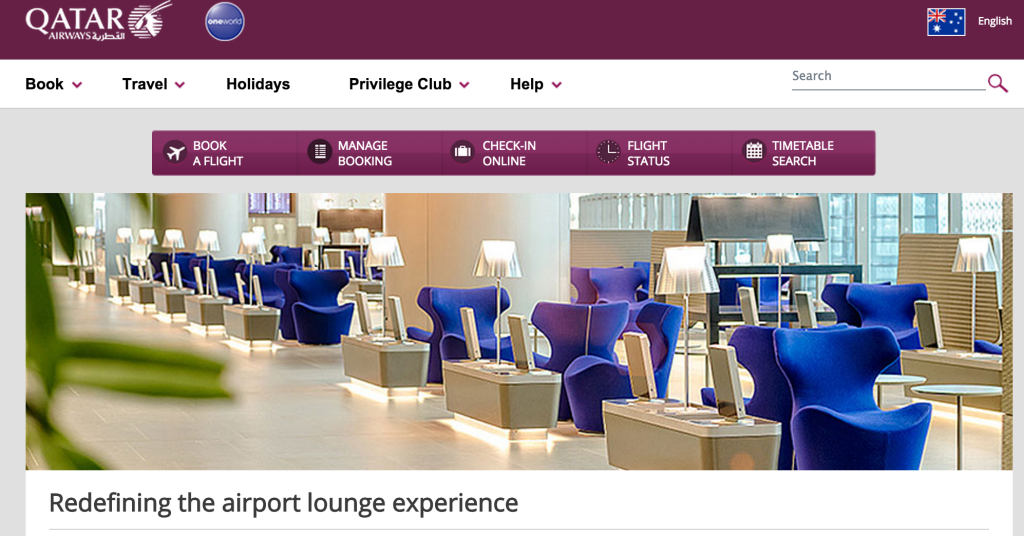 For those of you wondering, this is not your standard flight lounge with a bowl of pretzels and a free soda. The Qatar Airways lounge in Doha has a full open bar and both a sit down restaurant, where you can order gourmet meals off of a menu, and a buffet area where you can get all kinds of items to dine on depending on the time of day you happen to be there.
Needless to say, we were completely blown away by the unexpected gesture of the meet and assist, private car transfer, and personal attention from the station managers.
Qatar Airways – Return Trip to Doha and More Unexpected VIP Treatment
Just when we thought the customer care could not get any better we were about to be surprised again.
When our fabulous stay in the Maldives was over and it was time to head home our flight from Male arrived in Doha at 10:00pm but it did not leave for Miami until 8:30am the next morning.
We had planned to grab a room at the Doha Airport hotel to spend the night. However, as we were getting off the plane Mr. Al Baker had arranged again for the Qatar Airways rep to meet us with a vehicle and to go through the private immigration area.
When we got into the car the Qatar Airways assistant informed us that they had taken the liberty of booking us a room for the evening at the Oryx Rotana hotel!
Utterly amazing.
Qatar Airways CEO, Akbar Al Baker – Thank You!
Delivering unexpected joy and happiness to customers, and treating them like humans is what develops trust and strong brand loyalty. Sadly, even though many large companies today profess to care about customer service, their actions prove that they lack empathy and can even be hostile towards customers' needs.

Mr. Al Baker, your generosity helped to take what was a special trip to mark a special occasion and turned it into the best holiday we have ever had, and an experience that we will never forget.

In an age where many leaders at the CEO level choose to be distant and removed from their actual customers, you chose to epitomize what it means to delight and surprise by over delivering on great customer service.

A sincere thank you, Mr. Al Baker, for your attention to detail and personalization, and to all of the employees who made our Maldives trip a remarkable experience.

Share this post: