Share this post:
The other day I was on LinkedIn updating my profile to reflect the work that I'd recently done for the Intercontinental Hotel Group (IHG). While I was logged in I somehow came across the fact that the Grand Wailea Resort in Maui was looking for a Manager of Digital Marketing.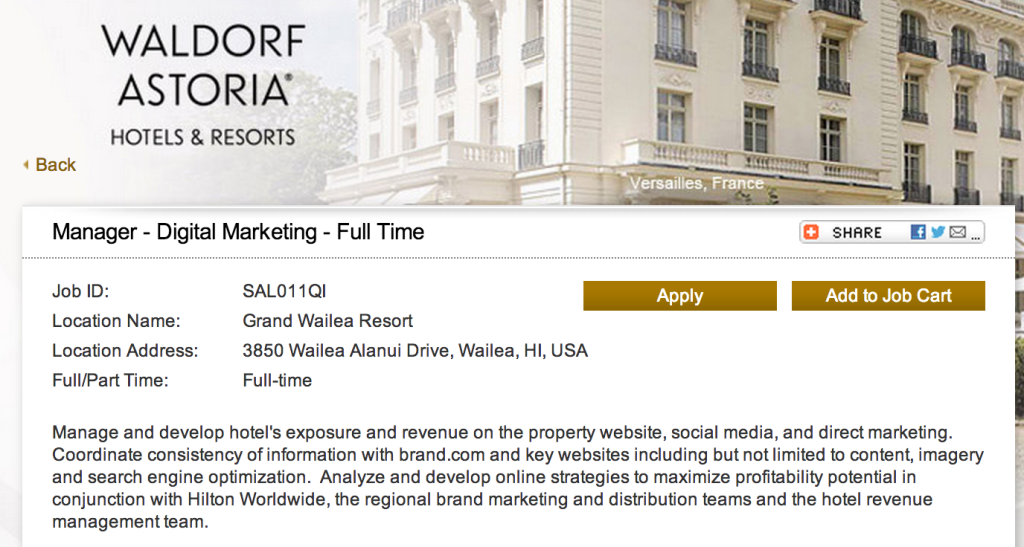 I've spent a lot of time in the South Pacific — living in Samoa for a bunch of years and traveling through Hawaii — and figured I would investigate further to see what the Grand Wailea Resort was currently doing as an online strategy to better connect and interact with potential guests (and ultimately to increase bookings).
When I visited the Grand Wailea Resort website I quickly noticed that they had all of the requisite links to various social sites (Facebook, Twitter, YouTube, etc.) and noted (at the time of writing this article) they had not been too active on any of the various platforms.  In order to serve the hotel best, I thought I would offer them three things I would do immediately if I was their Digital Marketing Manager.
(Note: none of my suggestions are meant as criticism, on the contrary, I want the Grand Wailea to succeed in their digital strategy and to help their guests have an amazing experience!)
1. Conduct a thorough reputation audit
The Grand Wailea is part of the Waldorf Astoria brand, which offers, "5 star luxury travel to top destinations." Additionally, in one of their YouTube promo videos, the Grand Wailea exclaims that they "offer unsurpassed luxury." Which is great, and is exactly the perception and expectation I conjure up in my mind when I envision this iconic property. However, after a quick check of TripAdvisor to see what past guests have had to say about the property, there seems to be a bit of a disconnect between what's being sold/offered and what is actually meeting guests upon arrival. To be clear: the Grand Wailea has great reviews but from the one star all the way to the five star an overriding theme was "the rooms are getting tired."
Below you will notice a four star review (awesome), and even though they had "no complaints" if you read the last line this Senior Reviewer even mentions that "the rooms are outdated."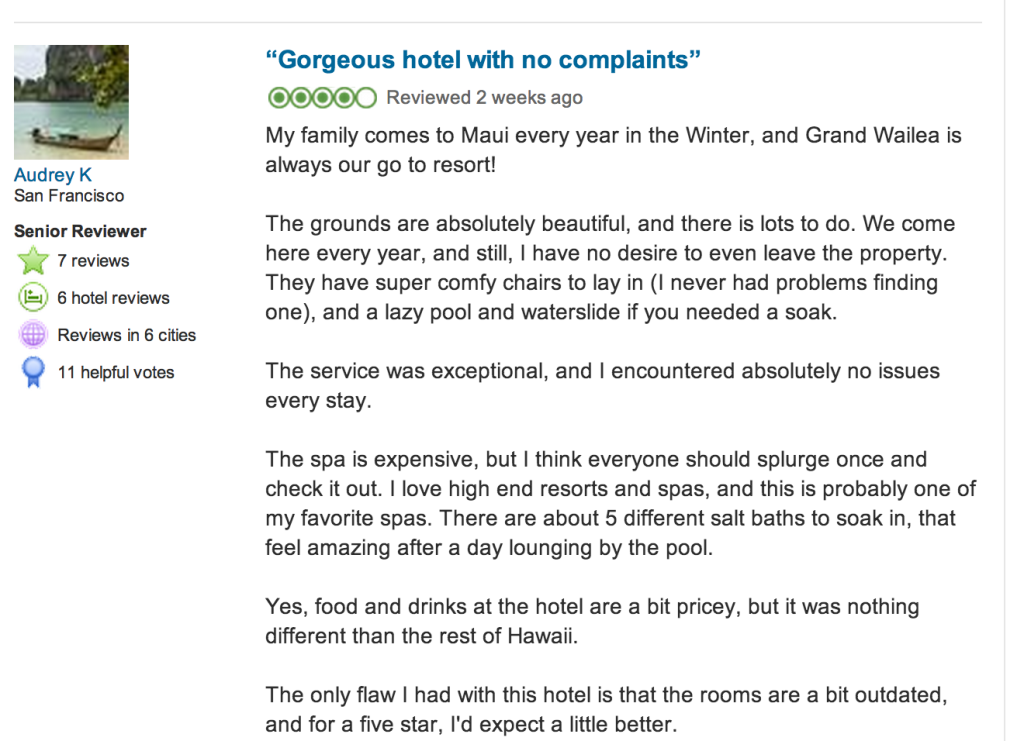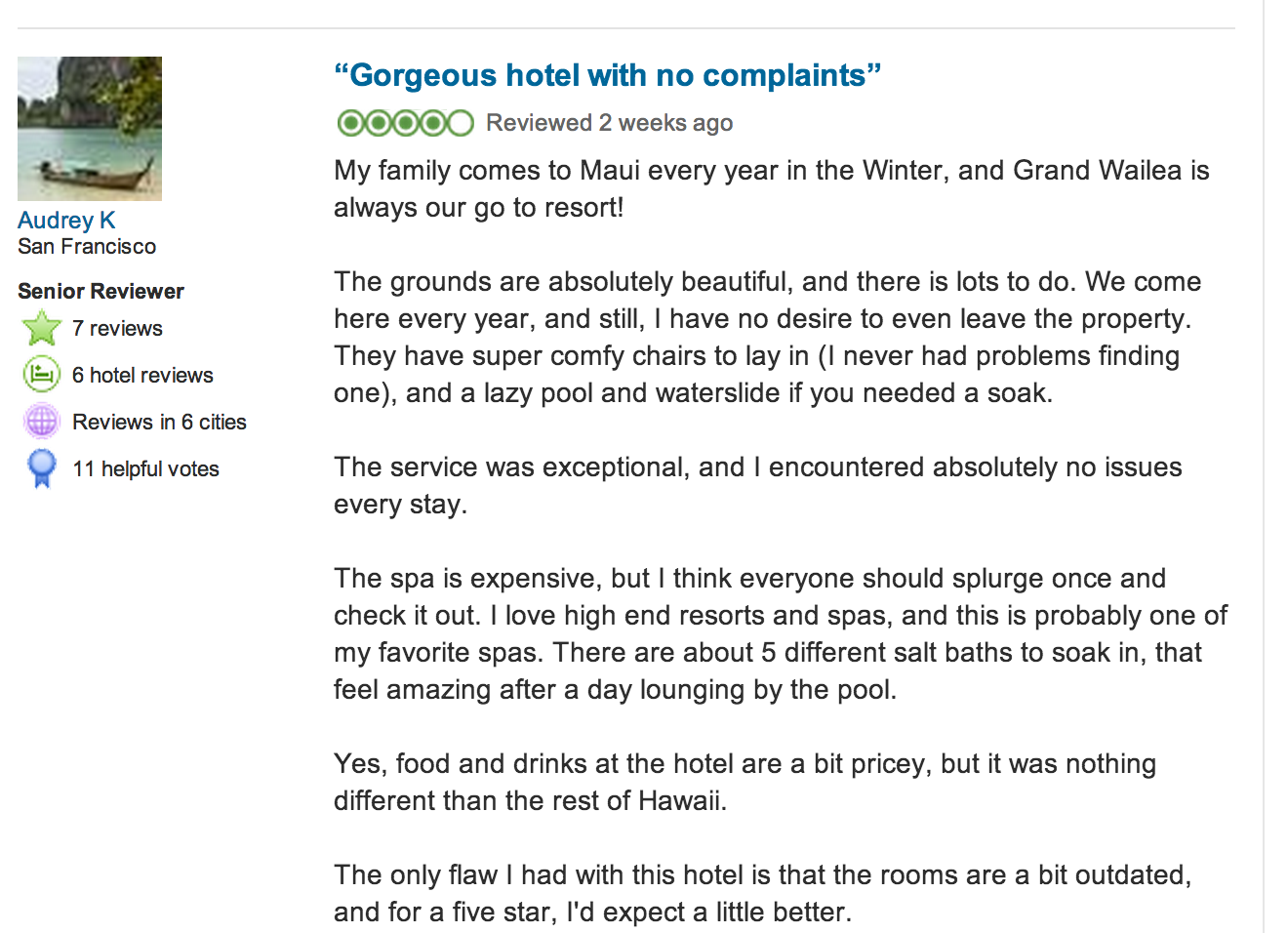 I'm not sure if the Gran Wailea has a remodeling project in the works, or what their plans are. However, if they want continued, long-term success with the "hotel review feedback loop" then I would suggest more transparency, and perhaps even a rebranding to state that the rooms are "classically elegant,"  or something along those lines to set expectations early. In all honesty, it does not matter who your digital director is, if guests feel like they've been duped on the quality of the rooms, then negative reviews and comments will continue.
It's important to note that travelers have always had a voice. Social sites like TripAdvisor, Facebook, and Twitter just allow guests the opportunity to magnify how many people can hear their opinion. Previously, it was perhaps ten friends and now (with extended networks and friends of friends) they might be telling ten thousand people or a million about their experience at your hotel.
2. Create remarkable content
The second thing I would do as Manager of Digital Marketing for the Grand Wailea Resort would be to use a keyword tool, such as Google's Keyword Planner, to discern what potential guests are searching for online when it comes to Maui. From the information provided by the Keyword tool, and via a thorough understanding of the Grand Wailea's guest demographic, I would develop an editorial calendar of blog, Facebook, and YouTube content that was aimed at helping visitors with useful information. (Note: the graphic below shows the results for a keyword search using the phrase "Maui family activities.")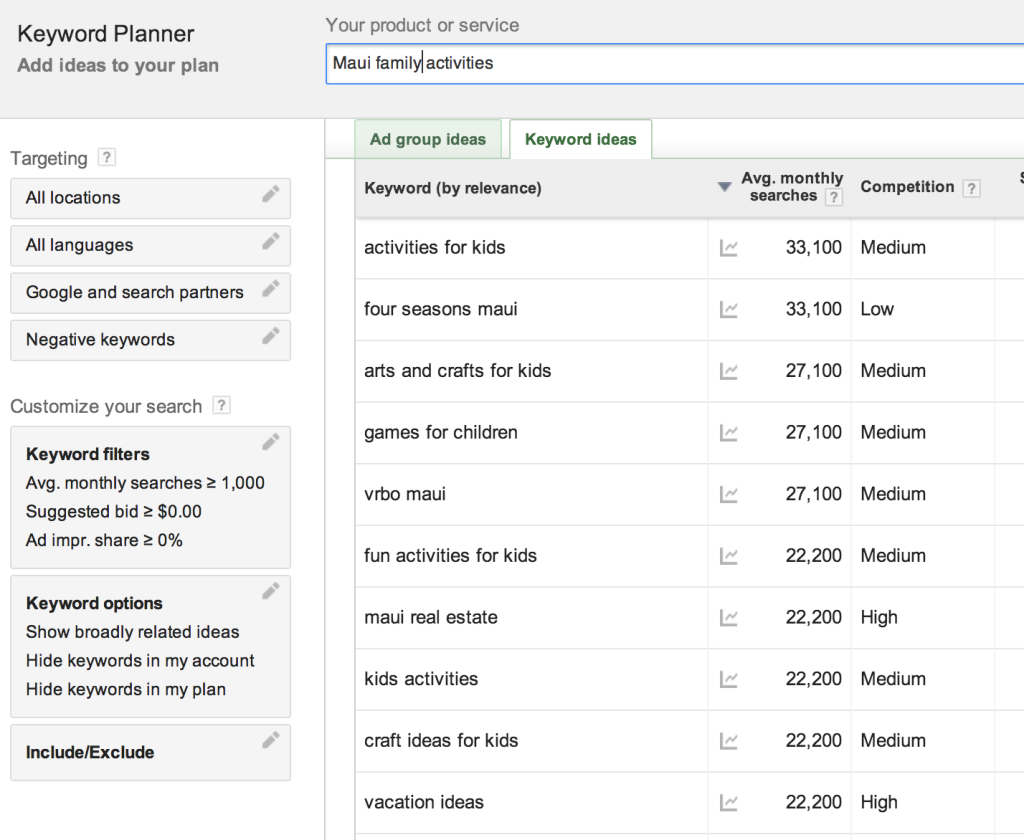 As noted in the introduction above, the Grand Wailea's website lists all of their relevant social media accounts, but they are not updated all that frequently. Some simple posts that I would suggest they create would be "5 Great Beaches for Kids," "How to Tour Maui with Children Like a Local," and "10 Rainy Day Activities the Whole Family Can Enjoy." Potential guests want to interact, engage, and feel connected to brands via their online presence and if social media accounts are just "collecting dust" then the Grand Wailea Resort is probably losing business.
3. Become a social media concierge
The third thing I would do as the Grand Wailea's Manager of Digital Marketing would be to start using social media channels as an extension of the concierge desk. The best and most effective way to do this is to join online conversations in a non-spammy way. Two simple ways to be incredibly helpful to potential guests would be to answer questions in a destination forum like TripAdvisor's Maui discussion board and to use Twitter's simple search tool to communicate with travelers that need assistance.
As you can see from the screengrab below, the TripAdvisor Maui destination forum has over 46,000 discussion topics, questions, and inquiries. The Grand Wailea Resort's Director of Digital Marketing should be replying to many of the questions as a way to build trust and to build brand recognition.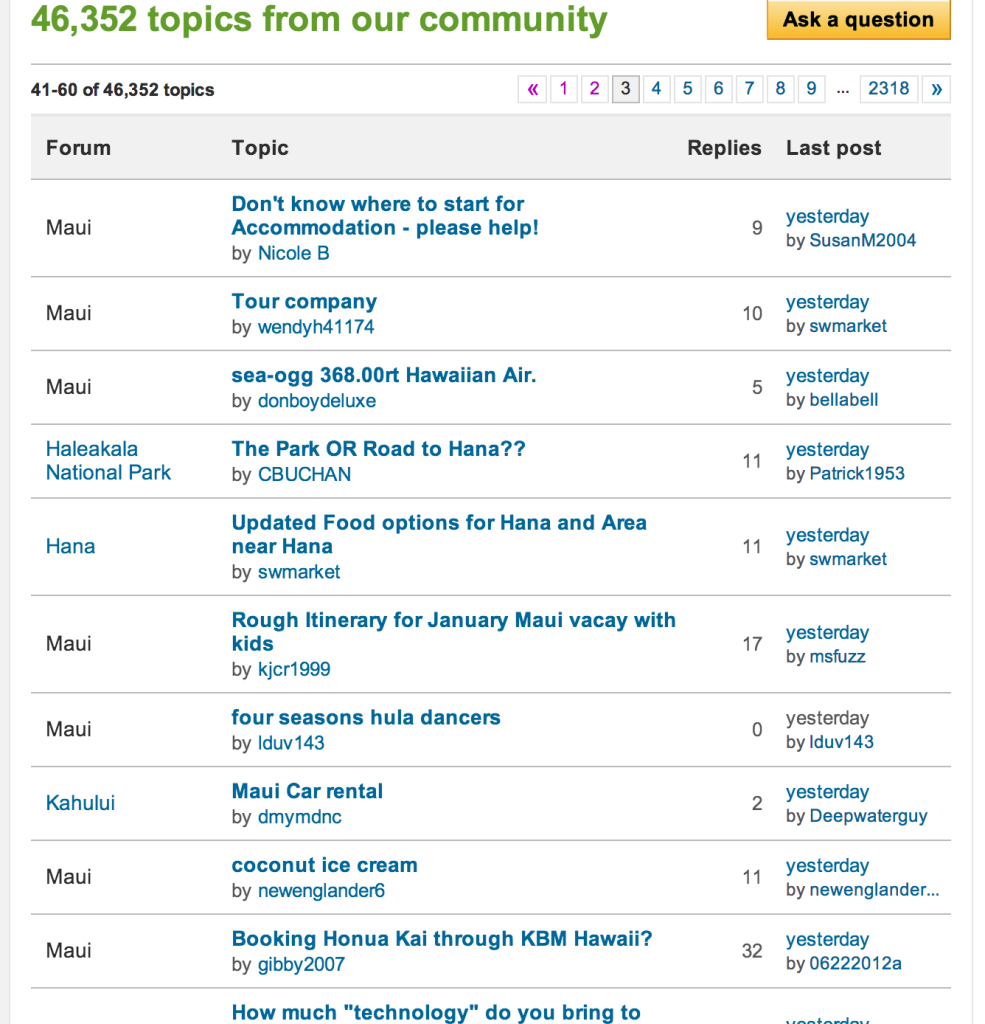 Similarly, Twitter provides the Grand Wailea Resort an almost never-ending opportunity to be the "Maui Digital Concierge" by simply connecting with those users who are seeking trip guidance and looking for insight on Maui.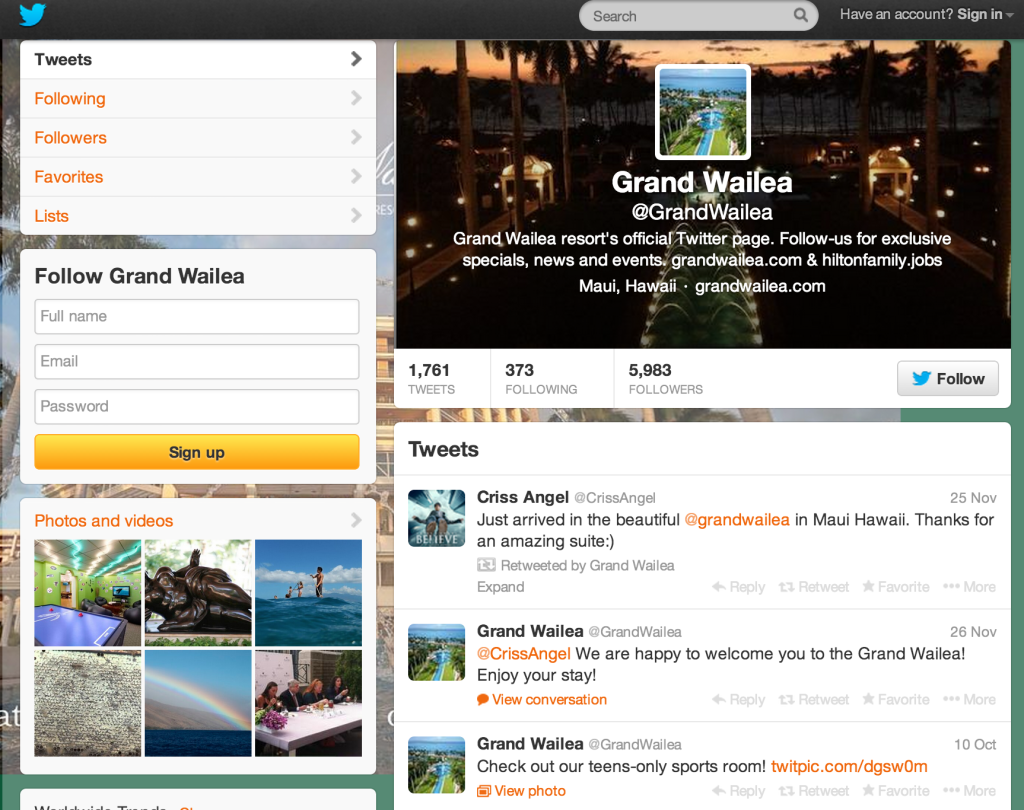 Currently, though, their Twitter account does not appear to be updated regularly and the majority of their Tweets are about the hotel itself. This is a common mistake made by tourism businesses and the great thing is that it's easily remedied by following the rule whereby you are helpful 80% of the time and only promote yourself in 20% of your interactions.

For any hotel out there, simply having social media accounts does not increase business, and if you are struggling with digital marketing I suggest you get started by looking at the 21 Day Hospitality Social Media Challenge. Building trust, being helpful, and providing complete transparency wins with guests every time.

Obviously there is still a tremendous amount of work that needs to be done by the Grand Wailea Resort. The three suggestions mentioned here are meant to be part of an initial digital strategy that can be seamlessly implemented by them today.

I wish the Grand Wailea tremendous success in 2014 and with their search for a capable Digital Marketing Director. (Note to Grand Wailea Resort: If you would like to discuss a more in depth comprehensive digital strategy there's a good chance I'm going to be in Hawaii in February and feel free to connect with me on Twitter @mark_hayward or via email.)

Share this post: