Share this post:

Welcome to day 15 of the 21-day hospitality social media challenge! You are doing great!!
There is an old saying that if a person is happy they tell three people. If a person is unhappy the will tell ten people.
Social media, and particularly Twitter, simply allows people to amplify their message, so instead of telling ten people, perhaps they are telling 10,000 or more about the experience they had at your business.
For you, the hospitality professional, if you are having trouble coming to terms with Twitter, try to think of it as the largest cocktail party or hotel lobby you've ever been invited to where you don't know a single soul. As an example, if you walked into this "lobby of strangers" where you were trying to make a good impression, would you simply start handing out your business card to everyone and telling them how great you are? Certainly not!
For numerous companies who are new to Twitter, and social media in general, there appears to be a common misconception that as soon as you sign up, customers are going to fall from the sky in droves and you will immediately be inundated with more business than you can handle. Unfortunately, this is not the case. But, as a means of assisting you in your Twitter interaction, below are three simple tips.
1. Listen – If you do not subscribe to an online monitoring service like ReviewPro or Revinate, Twitter has a handy search tool that can be used in numerous ways to help the hospitality professional get a better idea of what is being said about their destination, their hotel, and their competition. For the example below, I just entered "Puerto Rico" in the search box to see what people were saying at the time of writing this article.
Out of the five tweets captured above there are at least four referencing trips to Puerto Rico (where conversations could be started!). You can do the exact same thing for your particular destination and property, or you could even follow the competition. Truly, this "listening" technique works for whatever you would like to track.
2. Participate in conversations – Brands and businesses that are successful on Twitter go beyond spamming followers with how great they are. The next example below comes from a Twitter user named the @productpoet. This person was seeking accommodation in downtown Omaha and they said that they would stay with the first hotel that responded (more in the image below).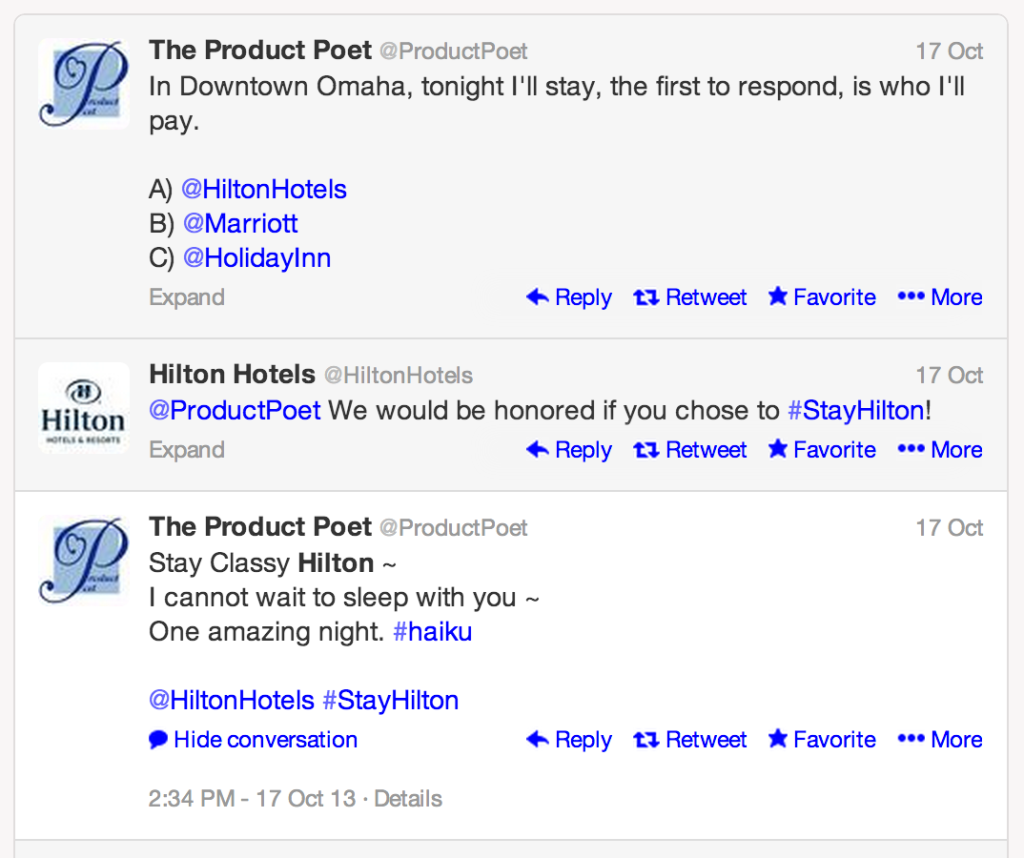 As you can see above, because Hilton was paying attention (listening!) they were able to reply and book the stay. What did the @productpoet think of the stay? Well, below is what they tweeted to their over 117,000 followers.

(Note: hat-tip to Social Media Today for sharing this story.)
3. Be a concierge first (and sell second) – Your potential guests have a never-ending stream of questions and you are the expert at your destination. Think of Twitter as an amazing extension of your concierge to help, educate, and take care of your patrons.
A quick search on Twitter for "London activities" brought up many instances of folks seeking help. Below is a perfect example for you to jump in as hospitality professional and offer guidance to this person looking for a place to see Christmas lights.

If you follow the general rule of interacting and having conversations 90% of the time and selling only 10% you should be able to have real success with Twitter.
The number ONE mistake hoteliers make with Twitter
Interestingly, you can now book a room using Twitter but where many hospitality ventures fail to succeed is that they do not collect @ usernames either during the booking process or while a guest is checking in.
If you are an active Twitter user how good would you feel if a hotel tweeted you wishing you a great stay. Or, if after you checked in, by the time you got to your room there was a tweet from the hotel just checking with you and making sure all is ok. Hospitality professionals, start collecting those @ names and engaging with your guests for maximum impact!
Task day 15: Ask every guest that checks in today if they are on Twitter. If they are, get their @ name and tweet them a welcome!
Don't miss a day of the challenge! Sign up below.

Share this post: