Share this post:
Welcome to day five of the 21 day hospitality social media challenge! If you participated in the first couple of days and are beginning to feel empowered and like you truly have the ability to shape your online reputation and web presence, then congratulations! You are correct.
So far you have learned about creating goals, how your guests find you online, and tips for undertaking keyword research. But, have you ever thought about how your potential guests perceive your business from what they research online?
When you contemplate the hospitality industry and the new Internet economy, consider for a moment that perception, planning, purchase, arrival and stay (reality) now all add up to equal guest experience, which in the end drives the online review process.
Therefore, it is critical that all of the content – posts, updates, photos, video, etc. – that you create as part of your social media activities be transparent and brutally honest about what you have to offer.
Have you ever had guests arrive that have either a huge grin or a complete look of confusion and disappointment?
The initial smile, or dreaded lack thereof, when new guests arrive is derived mainly from their online research and the expectations that they have about your hospitality business. Then their emotions come forth when reality meets them upon arrival.
If you are struggling with how this perception — and subsequent online review feedback loop — affects your business, let's dissect the first couple of stages (see graphic below) starting from when a potential customer decides to take a trip.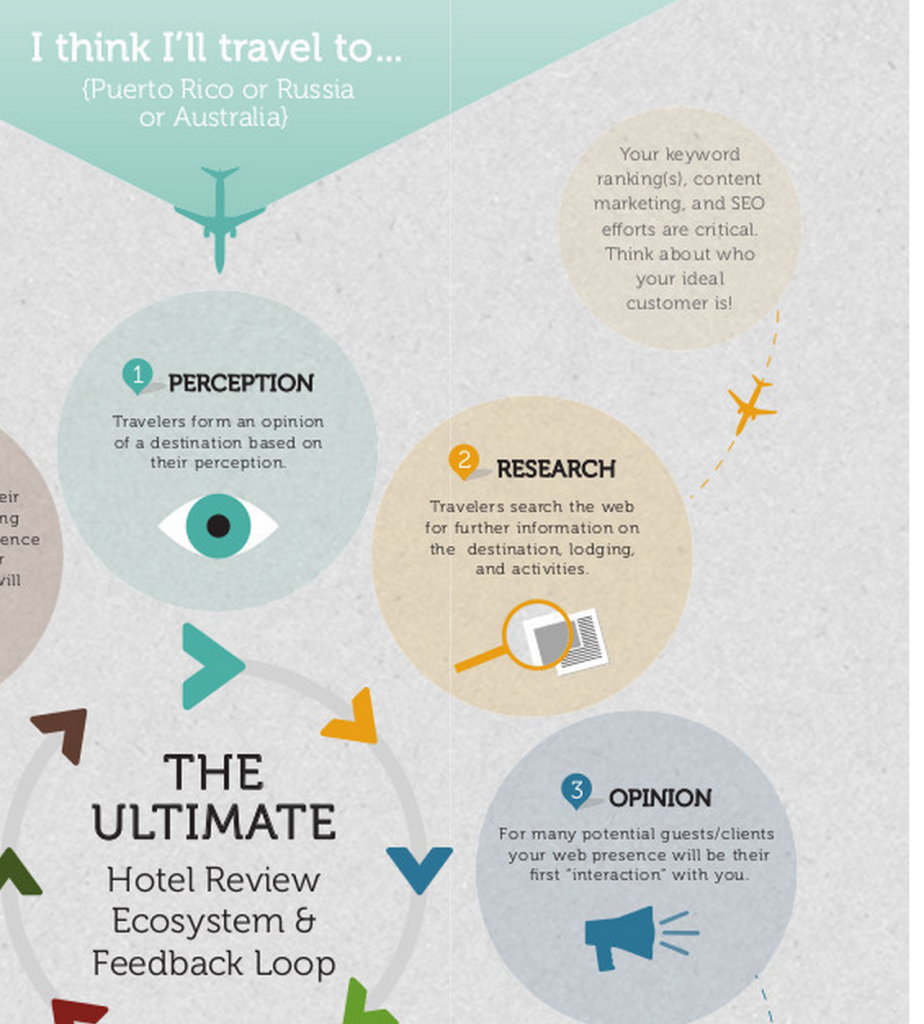 According to phocusWright, 81% of travelers usually or always reference TripAdvisor hotel reviews before making a booking selection. The emphasis on the fact that your social media strategy needs to be attracting the "ideal" guest for your property cannot be overstated.

Through expectation and perception, the guest experience really begins before they even arrive at the hotel. Remember, you want your social media plan to be proactive and not reactive!

Essentially, potential guests book based on two key factors, a belief that your property will suit their needs and trust.  Stage one of the graphic shows that the beginning of the booking funnel begins as soon as a person decides to take a trip. From that moment forward they start to form an idea of what they think the experience will be like.

Typically the customer will also start to research the destination, lodging, and activities on the Internet and this is where your consistent message across all social channels is critical to attracting the ideal guests. Specifically, once they land on your website and digest all of your postings, updates, and reviews their opinion of your business – and subsequent review formation – starts then.

Note: Many business owners think the review process starts when a customer leaves their business, but in reality it can begin months in advance with that first interaction they had with your online presence and reputation.

Day five task: This might not seem like online social media, but take some time today and ask your guests if their expectations and perception (of what they expected when it comes to your destination and hospitality venture) have been met based on what they researched online.

Share this post: