Share this post: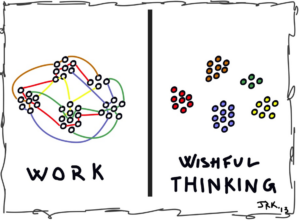 Do you want to improve the consistency and effectiveness of your hospitality social media strategy with some daily "Best Practices" and tips? Read on to find out how…
Travelers have always had a voice and talked about their experiences with others.
However, with the advent of social media, customers and guests no longer just tell ten friends about their bad experience, they now have the ability to magnify their voice and to talk about your reputation and service to the world.
For the busy hospitality professional who is time crunched and dealing with other priorities, the path to success can be long and difficult. Getting a grasp of the best practices you need to ensure that you are attracting the ideal guest via you're your content creation, reputation management, and your overall social media footprint can be time consuming and just outright frustrating.
However, before you throw up your hands and give up or only engage in a reactive manner, the twenty-one day hospitality social media challenge is here to help you to optimize your hotel's reputation.
The Social Media Challenge Backstory
A few years ago I purchased a hotel that had no cash flow, no bookings and absolutely no online presence.
Faced with a hefty monthly mortgage, I set to work learning everything I could about creating a comprehensive and business driving online presence for my hotel via content marketing, online reputation management, and social media relationship building. (Note: You might wish to think of the whole process as a customer driven feedback loop.)
You and I both understand the time demands required to balance running a real hospitality business in tandem with the frustration of the seemingly unending Internet marketing choices available.
Whether you own a five hundred-room resort, a five-room bed and breakfast, or something in between, social is no longer a "nice to have." It's imperative!
What is the challenge about?
When it comes long-term hospitality social media success there is no "gaming" the system or shortcuts. It takes consistent hard work and execution and you must think in terms of months or years, and not days or weeks. What actually works is developing a genuine connection with your guests that is built around sincere communication, transparency, and remarkable service.
For the next 21days I will post simple and practical tips that are designed to help you to get in the habit of executing social media on a daily basis. If you have special topics that you would like covered let me know. A sample of what I plan to cover includes the following:
• effective content creation
• search engine optimization
• TripAdvisor best strategies
• engagement & relationship building
• listening and monitoring
• destination forum etiquette
Whether you are a social media neophyte or a seasoned veteran, this series is designed to provide educational and actionable information that you can implement from day one to help ensure your long-term success.
You better get ready because day one of the twenty one day challenge will be posted tomorrow. So that you do not miss any of this valuable series, feel free to subscribe to updates by entering your email below.
(Image is from my friend Joaquin of Neuron Igniters)

Share this post: