Share this post:
Are you still trying to come to grips with guest reviews and think it's near impossible to improve your rankings?
A few years ago the San Juan Water & Beach Club in Puerto Rico was in need of a customer service revamp and physical overhaul. With respect to TripAdvisor rankings, at their lowest point the hotel sat almost dead last for their area of San Juan at #13 out of 14 hotels, and the restaurant actually was last. When ranked among all of the 172 hotel properties found in Puerto Rico, the Water & Beach Club was listed down around one hundred and a climb back to the top seemed unlikely, if not impossible.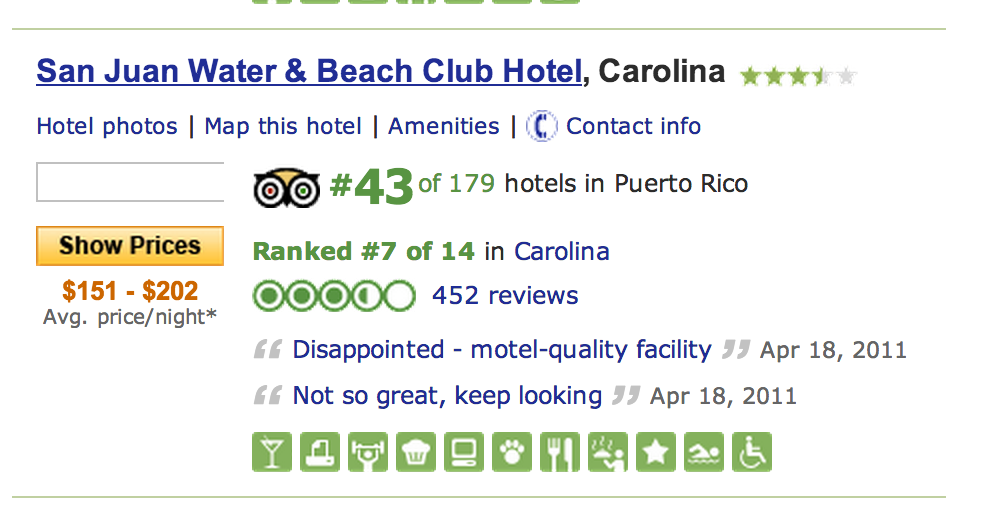 As a hospitality professional, you very well know, if you are marketing your property (or any property for that matter) as a boutique hotel you do not want to consistently be reading reviews that have comments like "motel quality," "not very nice," and "keep looking!" Statements like the previous comments tend to drive a lot of business and bookings to your competition.
However, the management chose not to close the doors. Instead, according to General Manager, Jose Torres, they decided to regroup and to own their reputation. In addition to a $2.5 million dollar renovation and re-design, they started their new campaign by reading the negative comments and sentiments about the Water & Beach Club online and decided to use the insight to drive real action and change for improvement.
During their discovery phase the management noticed a theme in what the customer reviews had to say about them.
The property was not well kept.
The staff were not well trained.
The pool was always closed.
Armed with the detailed information of how past guests viewed the Water & Beach Club, Jose Torres says that they created a new mission with buy in from all levels at the hotel which would focus on:
Remarkable service for every guest that comes through the door.
Commitment to a well cared for property and clean, comfortable rooms.
Continuous and ongoing training for staff.
You might think that rededicating themselves and creating a new mission might not lead to very much of a change or beg the question, "Why weren't they just doing that before?"
But the results are unquestionable. In a little over eleven months the Water & Beach Club hotel has climbed the TripAdvisor rankings to claim the number one position in San Juan and the restaurant is in the top spot, as well.

Most importantly, when it comes to bookings and the bottom line, Mr. Torres tells me that the hotel now has the highest occupancy rate of any hotel in San Juan and they currently charge the highest rate in their track class.

The wonderful lesson to be learned from this, and other similar success stories, is that it does not matter if it's the Industrial Age or the Internet Age, remarkable hospitality and attention to detail never go out of favor. Travelers have always had a voice and new technologies simply provide a way for their message to be amplified whether positive or negative.

If you want guests to say good things about you, then you have to give them a reason to say good things.

Share this post: