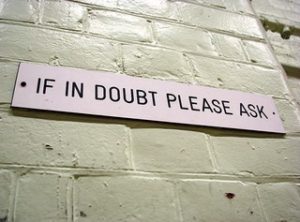 Consultant Daniel Craig recently asked an important question in a blog post:
"Should hotels be asking guests for TripAdvisor reviews."
The undeniable truth is—when formulating an opinion, potential guests are actively seeking to read what former guests are saying about your establishment on TripAdvisor.
And as a hotel owner myself, the question is not, should you be asking for reviews.
But, how do you go about asking guests for reviews in a tactful manner?
Simply stated, whether you own a kayak touring company, or run a hotel—you must get proactive with your reputation management. Furthermore, within TripAdvisor's terms of service guidelines, it is perfectly acceptable to seek a review from your customers as long as you don't offer goods and services in exchange.
However, many hotel owners are intimidated by the thought of asking guests for a review, or they don't quite know how to go about it.
Taking the Leap and Delivering the "Ask".
Asking customers for reviews can seem overwhelming and daunting at first. Fortunately, there truly is nothing to fear. Your former guests are eager to share their positive (and negative) experiences. (Note: Here's how to respond to negative reviews.)
Certainly, if you have developed a comprehensive reputation management ecosystem, deliver amazing customer service, and provide a quality product then you should feel confident when asking guests for reviews.
When delivering the "ask" to your customers, understand that most people are extremely busy and don't have a lot of spare time. Your strategy should make it as easy and uncomplicated as possible for folks to write an assessment, so where relevant include the TripAdvisor link to your profile.
Here are four simple tactics to let guests know that you are actively seeking TripAdvisor reviews:
1. Business card – on the back of your hotel's business card let your guests know that you would love to hear about their experience and stay. A straightforward, "Thank you for your patronage. We truly value your opinion. Please take a moment to review us on TripAdvisor" will suffice.
2. Email thank you – sending a personalized thank you email to your recent guests is not only a great way to develop fans, but it also allows you the opportunity to seek reviews. At the end of your email, add something similar to the following, "We understand that you have a hectic schedule and a busy life, but if you have a spare moment, we always appreciate an honest review on TripAdvisor."
3. Ask at checkout – guests who are leaving your hotel during checkout time have their experience fresh in their memory. Smart front desk staff always check to make sure that everything was okay during the departing customers stay. As a reminder, you should also encourage those who are leaving to provide a TripAdvisor review when they reach their final destination.
4. Widget on your website – a great display of your "social proof" is to place TripAdvisor's review widget directly on your website. Some samples of TripAdvsor's existing widgets can be seen here -http://www.tripadvisor.com/WidgetEmbed.
If you try any of the approaches above for your hotel, or decide to implement your own TripAdvisor review seeking method, remember to track your success rate. Tracking success will allow you to have an understanding of what works and what doesn't, which can help you to tweak your "call to action" for best results.
Have you asked for TripAdvisor reviews in the past? What has worked best for you?
image source: http://www.flickr.com/photos/rooreynolds