Share this post: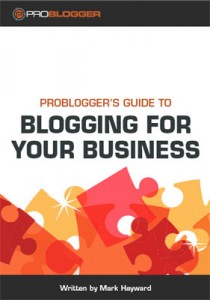 Today I am overjoyed to announce that Darren Rowse, of ProBlogger.net, and I are launching the ProBlogger's Guide to Blogging for Your Business.
A little over four years ago I purchased a dormant business in the Caribbean with no customers, no cash flow, and no Internet presence. Without blogging and the possibilities that it provided me to educate my customers, to share my story, to rank well in search engines, and to promote my venture there is a good chance that my business would have failed and would not exist today.
Nowadays, with the advent of many forms of social media, more possibilities exist today than ever before for you to share your business's story with the world, engage your customers, and interact with donors. However, blogging is the cornerstone from which your online presence should be constructed.
ProBlogger's Guide to Blogging for Your Business is a 143 page step-by-step guide that's targeted for business owners, nonprofit leaders/managers, and individuals who want to use blogging as a base to develop a comprehensive social media footprint and online presence. (Note: it is NOT a make money blogging book!)
The guide is like having your own personal blog coach and was written from the bottom up with the following question in mind:
How can our knowledge and what we've learned about blogging help to remove the technical barriers to entry and content creation frustration that so many newbies and would be business bloggers struggle with?
Many business owners plan to include a blog as part of their marketing strategy but soon find themselves asking, "Where do you start?"
With ProBlogger's Guide to Blogging for Your Business all of the guesswork has been removed. The guide will help you create an online presence for your business that:
–       reaches the right people
–       builds your customer base
–       increases your profile and influence
–       is easy to set up, manage, and build upon
The step-by-step advice will save you hours of time—and endless frustration.
–       set up a WordPress blog … without any technical know-how
–       conduct targeted keyword research … even if you've never done it before
–       understand your online competition … whether they're next door, or on the next continent
–       build a strong social media footprint … even if you don't know the first thing about finding "followers"
–       set a successful business blogging strategy … no matter what your product or market
–       write blog posts that educate, engage, and build trust
What's in this book?
Over 12 simple, practical chapters, I distill my experience as a bricks-and-mortar business owner who built my clientele using simple, cost-effective online methods.
1.     Defining blogging and how it will benefit you
2.     Defining your goals
3.     Getting started with blogging
4.     Deciding on and registering a domain name
5.     Installing WordPress
6.     Intro to WordPress plugins
7.     Developing a content strategy and editorial calendar
8.     Developing content (including 52 blog post ideas) and fighting blogging frustration
9.     Publishing your first blog post
10. Finding readers and traffic for your blog
11. Optimizing Flickr and YouTube for your blog's online presence
12. Creating your social media footprint and measuring your blogging ROI
Practical tasks at the end of each chapter let you implement the strategy in a way that suits your business, and your customers.
Who's this book for?
Small to medium business owners and not-for-profits who don't have an online presence will find this book an invaluable asset. Also, it's perfect for you if you have tried blogging before only to give up after a week or two.
Whether your business is online or off, the advice in the guide will fast-track your development of an online presence that's perfectly integrated with your brand, and reaches the right audience.
As a business owner myself, the book assumes readers are:
time-poor: you don't have time for guesswork and dead-ends
action-oriented: you want to do, not read
focused: you understand that building a business blog will take time
astute: you're not looking for get-rich-quick gimmicks
human: you don't want to feel overwhelmed of frustrated
determined: you need to succeed
Money-back guarantee
If you're not satisfied with ProBlogger's Guide to Blogging for Your Business after 30 days, Darren is offering a full money back guarantee. That's how confident we both are that this is a resource that will help you build a solid, successful online presence for your business.

Download your copy now

Your online customers are waiting.

Download your copy of ProBlogger's Guide to Blogging for Your Business now and start reaching more clients immediately.

For jut $49.95, you can secure your business's online future. It's an investment that will benefit your business for years to come.

Share this post: