Share this post:
Today. Right now. YOU have the power and the control to spread your message, share your story, and connect with more people than ever before.
Do you want to grow a small online business and develop a base of passionate fans so that you can be free from the constraints of a job that you don't really like?
Are you eager to get your message out about orphans in Darfur?
Do you want to educate your customers and provide them with helpful information?
All of the above examples, plus many more possibilities are available to you right now. It's not easy and it requires a tremendous amount of focus and work, but it can be done.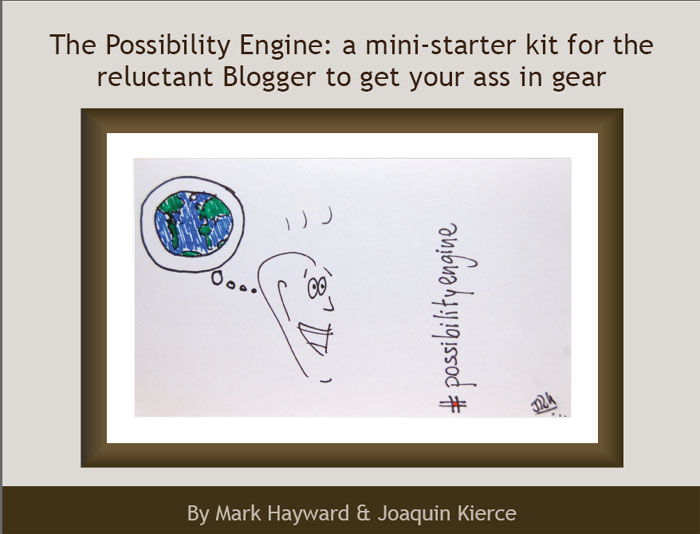 When it comes to blogging (and using social media) for business, or for a nonprofit, or even as an individual there's this niggling and annoying little voice inside your head that says – – "you can't, you shouldn't and you won't." Or there's always a low hanging excuse available as the scapegoat – not enough time, nobody reads it anyway, what impact am I having, etc.
And strangely enough, most of the time we listen. We let what Seth Godin calls "the Lizard Brain" and what Steven Pressfield calls "The Resistance" win and the only action we consciously take is no action at all.
Today we are launching the Possibility Engine, which is a free ebook focused and directed at YOU, the struggling, overworked, and frazzled business owners, nonprofit workers and any interested individuals who've wanted to start blogging but just haven't taken the initiative. It's also for those who've started in social media and blogging and found themselves giving up when results weren't immediate.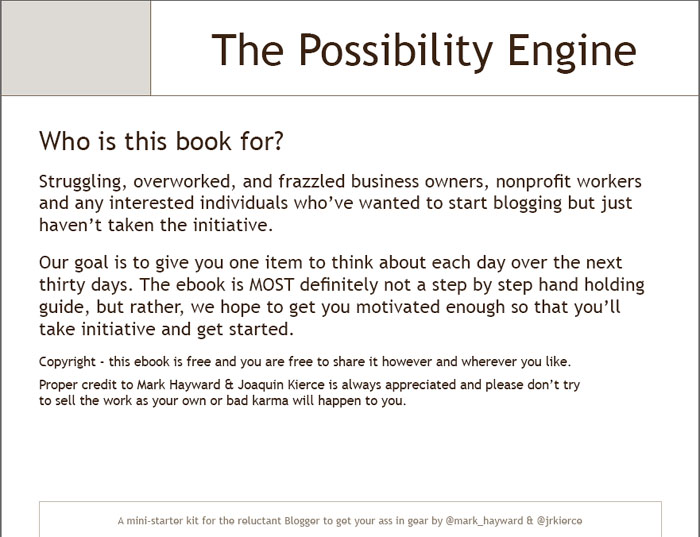 Our goal with the Possibility Engine is simple: for thirty days we are going to give you one blogging related point and one illustration to think about and to  motivate you each day.  We hope to get YOU to take action. In essence, we want you to get your blogging ass in gear and get working!

If you missed any of the links above, download it NOW! Possibility Engine

(Note: The Possibility Engine is a creative collaboration between Mark Hayward (@mark_hayward) and Joaquín R. Kierce (@jrkierce) and the ebook design and layout was done by Jonathan Woodward of Shine & Glue.  If what we are trying to do resonates with you we would be grateful if you'd share it on Twitter or Facebook. Oh yeah, over the next couple of weeks we'll be delving into each page to further inspire you, so don't miss one day, get the email updates.)

Share this post: